Halo sahabat, siapkan diri kalian!
Macan Tutul Jawa merupakan top predator di Pulau Jawa setelah Harimau Jawa yang dinyatakan punah oleh IUCN pada tahun 1970-an.
Macan Tutul Jawa sendiri dilindungi secara hukum dalam Permen LHK P.106/2018, termasuk dalam Redlist IUCN (International Union for Conservation of Nature and Natural Resources) dengan kategori Critically Endangered & termasuk dalam Appendix I CITES (Convention on International Trade in Endangered Species of Wild Fauna and Flora).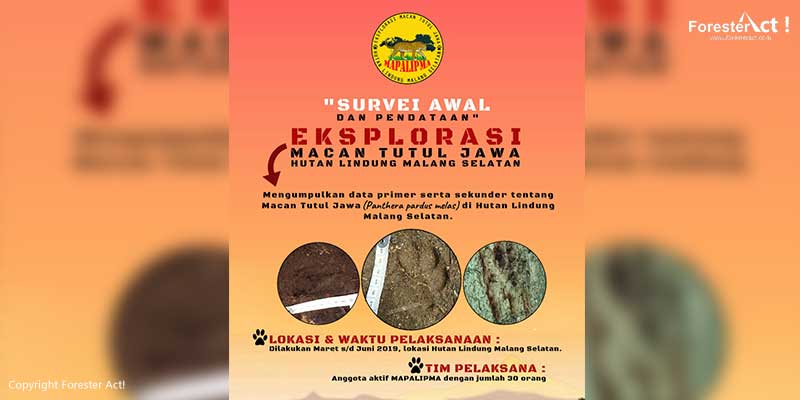 Hutan Lindung Malang Selatan bukan termasuk dalam Kawasan Konservasi (KK) yang menjadi benteng pertahanan terakhir pelestarian Macan Tutul Jawa dan keanekaragaman flora fauna lainnya di selatan Pulau Jawa.
Di Hutan Lindung Malang Selatan fokus pelestarian terhadap Macan Tutul Jawa sebagai IKK (Indikator Kawasan Konservasi) sangat kurang.
Maka dari itu Ayo!!! kalian pencinta alam & pemerhati lingkungan atau kalian yang bergerak dibidang Konservasi alam. Tunjukkan kepedulianmu terhadap Macan Tutul Jawa di Hutan Lindung Malang Selatan agar pengelolaan kawasan tersebut lebih ditingkatkan!!
Pendaftaran:
15 April – 25 Juni 2019
Link pendaftaran:
http://bit.ly/Eksplorasimacantutuljawa2019
Contact Person:
0813-3017-4798 (Derco)
Cari tahu tentang kami:
@eksplorasi_macan_tutul_jawa